STEVE SWICK
Contact: steve@procuprace.com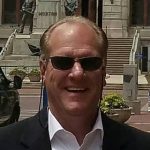 Steve Swick Businessman, Racecar driver and entrepreneur. In the mid 1980's 23-year-old Steve Swick was being touted by Auto Week magazine and nationally known Speed Sport News writer, and CBS television racing commentator, Chris Economacki as the hottest racing and marketing entrepreneurs that they had seen since the 1960's.
To date Steve has been responsible for numerous national product developments launches and has assisted in numerous other nationally known marketing and think tank projects.
Swick's racing enthusiasm began at a young age growing up with fast neighbors of legendary 2-time Indy 500 Winner Gordon Johncock, and the late 2-time Indy 500 Pole sitter Scott Brayton all from Coldwater, Michigan. Steve, a professional race car driver that has been involved in racing since he was 18, drove competitively in the Formula open wheel, Skip Barber Racing Series, along with SCCA Formula Ford and Formula Ford 2000 series throughout the mid 1980's into 2000, Steve also saw action in The Winston West Stock Car series along with the ARCA SuperCar series racing at some of the most premier Super Speedway facilities around the US, Europe, Canada and Mexico.
Steve at this time was not only sharpening his skills as a professional driver but gaining his marketing ability and contacts within the racing and business world, laying the groundwork for what was to come at a later date.
Today Steve is the CEO of Local Radio Networks supporting hundreds of radio stations across America.
About Local Radio Networks (www.localradionetworks.com)
Local Radio Networks (LRN) produces thirteen 24/7 music formats and is focused on providing local broadcasters with unprecedented localization and content control, national on-air talent, along with award-winning news from ABC News Radio. LRN offers advanced dual delivery platforms via XDS satellite, from a partnership with Skyview Networks, or LRN's proprietary Radio Velocity Control (RVC), which integrates seamlessly with most automation systems or can serve as a stand-alone automation option. Skyview Networks is the exclusive national network ad sales representative for LRN. Steve Swick is Founder, President, and Chief Executive Officer. Will Mashione is Co-Founder and Chief Information Officer. LRN is headquartered in Angola, IN, with offices in Los Angeles, CA, Dallas, TX, and a state-of-the-art Programming and Operations Center in Denver, CO.
In 2019 Steve Swick formed the ProCup Racing Experience along with Co-Founder and longtime Stock Racing instructor Harry Riley. ProCup Racing is headquartered in Angola, Indiana and travels to the most premier NASCAR racing tracks across the USA and providing the racing enthusiast the most realistic Stock Car racing experience.
HARRY RILEY, JR.
Contact: harry@procuprace.com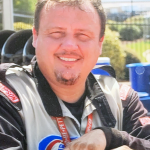 Pro Cup Team Manager Harry Riley began his racing instructing and racing career at short tracks across the Mid-West before joining The Richard Petty Driving Experience in 2004 through 2017 before joining The Pro Cup Racing experience as the team operations manager. While working at RPDE he was the Head Driving Instructor and frequented all the NASCAR ovals from 2004-2017 giving ride-alongs, leading Advanced Students, and Instructing also.
As a point of interest Harry have been involved in many Manufacturers ride and drive programs including Mercedes Benz, Ford, Fiat, Dodge, Police Pursuit training, Muscle car programs, and Exotic Driving Experience with Ferrari, Lamborghini, Audi, and Aston Martin.
These programs have taken Harry back to most of the premier NASCAR tracks that have Road Courses laid out in them but also to other popular standalone venues across the country such as V.I.R, Road Atlanta, C.O.T.A., Indianapolis, Lime Rock, Thunder hill, Kershaw, Sebring, Watkins Glen, Sonoma, Road America, Mid-Ohio, Firebird, Houston Motorsports Park, and a few testing /proving grounds such as Chelsea, and Uvalde just to name a few.
Harry is excited to be a part of the Pro Cup Racing Experience, taking his lifelong career to driver's for the most realistic experience and the most current racing cars available to tracks across the country.
DRIVING INSTRUCTORS
| | | | |
| --- | --- | --- | --- |
| James Stephenson | Gary Greenwood | Ron King | Jim Gardner |
| | | | |
| --- | --- | --- | --- |
| Scott Koerner | Danny Carter | Donny Slayton | Dustin Carter |
| | | | |
| --- | --- | --- | --- |
| Mark Melvin | | Ricky De Le Ree | Greg Bacon |
| | | | |
| --- | --- | --- | --- |
| Anthony Kolasky | Michael Slabenak | | |