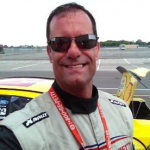 In 1999, I had two major extra-curricular passions – driving race cars and flying a Cessna 172. I reached a pivotal point where I needed to choose one and pursue it with a vengeance. Racing won! So in 1999 I joined the Richard Petty Driving Experience and in 2005 started instructing. Although giving rides is the best job on the planet (ok maybe I'm a little biased), it's very gratifying to coach a student and see the lap times steadily progressing and hear the excitement in their voice, and the smile on their face, knowing we're sharing the same passion. 
It's impossible to fully articulate the adrenaline rush of going off into a corner at speed other than it's something you'll NEVER forget. Today, my dream continues with Pro Cup Racing Experience!
Enough about me. If you're passion is driving a racecar, it's time to check that one off the bucket list and experience it for yourself. The only word of caution I have, once you've done it, you'll be hooked! It's like a box of chocolates, you can't take just one!
Go fast! Turn left!