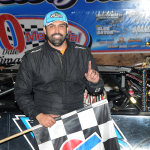 Born and raised in central Ohio, Dustin has been in racing since he was about 10 years old. At age 15 he began to work in Dirt Late Models for Keith Berner and eventually becoming the Crew Chief for Berner for nearly 8 years as they raced a regional schedule. Dustin also worked along side Berner in his Dyno shop building shock Dynos as well as shocks for racers all across the county.
At 25 Dustin broke away from racing to move to Florida and took a few years off. It did not take long to get the urge to be back at the track either as he would become the announcer at Volusia Speedway Park and an Operations Manager for the Richard Petty Driving Experience.
In 2016 Dustin decided to hit the track racing again and put together a FWD race car to run in Florida an Georgia. Finding success he would compile 12 feature wins over the next two years along with a track championship.
In 2019 long time sponsor John Allen from Allen Plumbing came on board to put together a Dirt Late Model to attempt crate racing. The car was a 2015 Mastersbilt by Donnie Moran with shocks by Keith Berner at Accu-Force Shock Dynos. After just three races the team found victory lane for win #1 at Volusia in the final race of 2019.